Silvije Arc Popovič
Do Not Disturb My Circles!
Noli tangere circulos meos!
(Arhimed)
Written by: Slavojka Akrapovič, Silvije Arc Popovič
Photo: Bojan Salaj, Atelje Galerija, Jana Demšar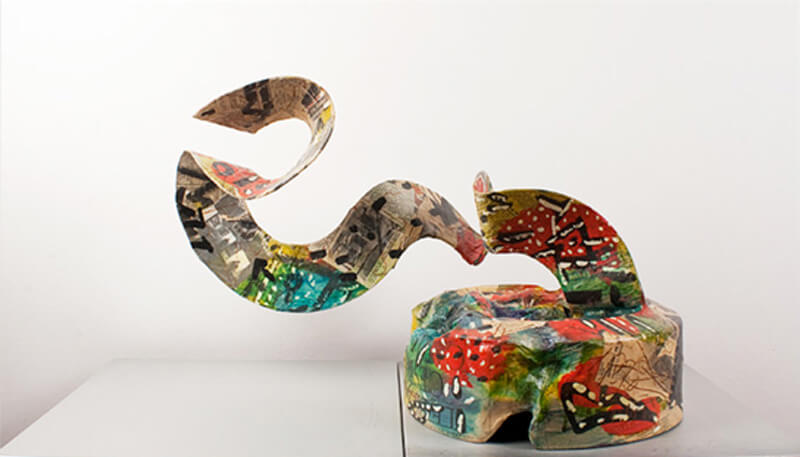 Fantasy is located within us and develops in childhood. It is the vital driving force of every artist. Silvije Arc Popovič expresses his emotions through childlike playfulness, in which fantastic thoughts spring up and form the source of his creative world, which is fully devoted to fine arts. Talking to him is an interesting experience. It may come across as a bit chaotic, yet still very deep, comprising a collage of philosophical reflections and art-theory issues. Popovič claims that child's play is the spiritus agens in a person's maturation, where we compare and compete with others and develop our identities.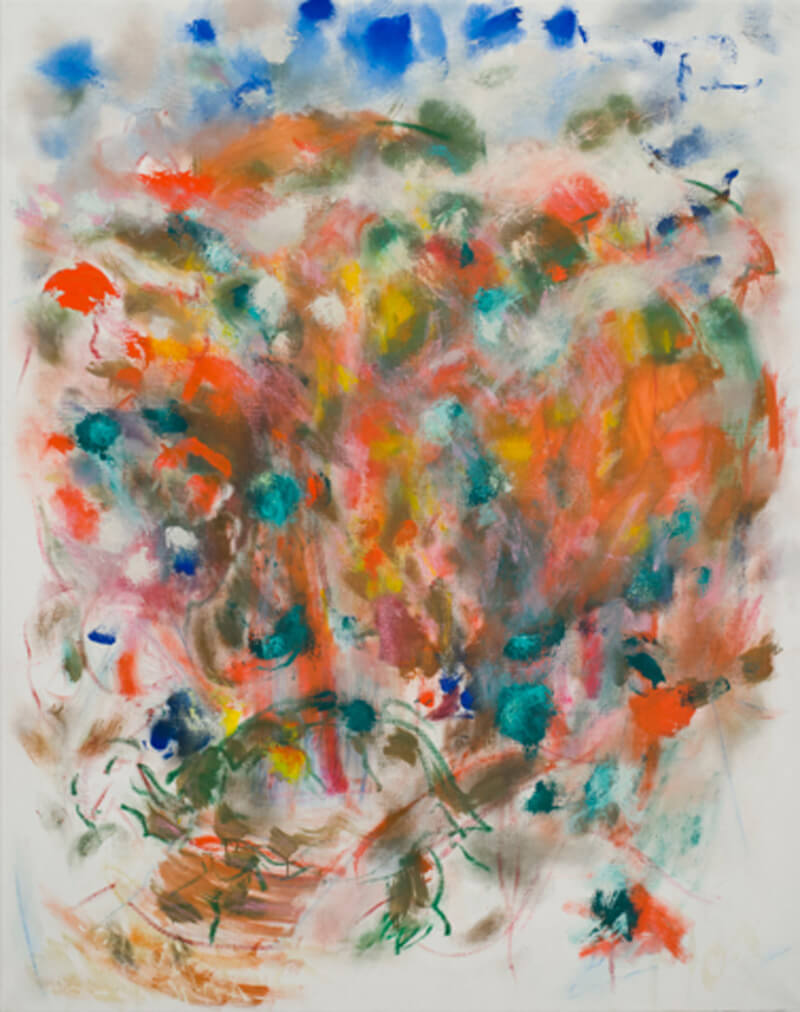 He likes to talk about architecture because, in essence, he strives to achieve a spatial effect through his paintings and painted sculptures made from various materials, which form compositions with intertwining form and colour. In this way he creates compatible units, which, proceeding from his architectural perception, he freely connects into installations. For him, an architectural work is a statue installed in space. The imagination in everything he sees generates new artistic messages. It seems like he still surrenders himself to carefree child's play in his creative work and exploration and continuous observation of the environment. His artistic expression is characterized by playful forms, painted sculptures, or abstract painting compositions.
His artwork is refined and colourful, exerting a harmonious effect on the viewer, who seeks figurality in it. He allows various interpretations of the meaning of his naturalistically and anthropomorphically shaped sculptures, which can also be expressed through eroticism.
Colour spills across all his works onto objects as well. It acquires a different meaning for the artist; it can be a simulation of a metal or patina, it may be used to create a psychological effect of depth, it may be applied as relief or it may arise from seeking the truth – the wisdom of ancient philosophers and artists. (The Greeks usually painted their sculptures.) In essence, colour may also be a deception for the artist because it is two-dimensional – a tool for creating plastic and picturesque images. Some of his works include objects that can be covered in canvas and painted. The artist combines various materials, shapes, and incompatible objects into artistic creations or sculptures, which is typical of pop art.
He could be characterized as a surrealist, but sometimes his works also reveal traces of impressionism.
Soft colour combinations, applied in precise multiple layers that create abstract shapes in which the viewer seeks motifs or a specific space, reflect the esprit of the short period the artist spent as a student in Paris. His painting compositions may express creative restlessness and expressive moods, but their colours have a harmonious and inspiring effect.
His artistic messages also stir the viewer's imagination.
An artistic message thus becomes a work of art compatible with his further artistic systems. Popovič sees value and interest in any material or even a serially-produced item that he finds and uses in his creative process. He recycles discarded objects, re-establishes their value, and assigns a new meaning to them.
The installations of his works in galleries, where he combines paintings and sculptures into compositions with an architectural perception of every space, attract much interest..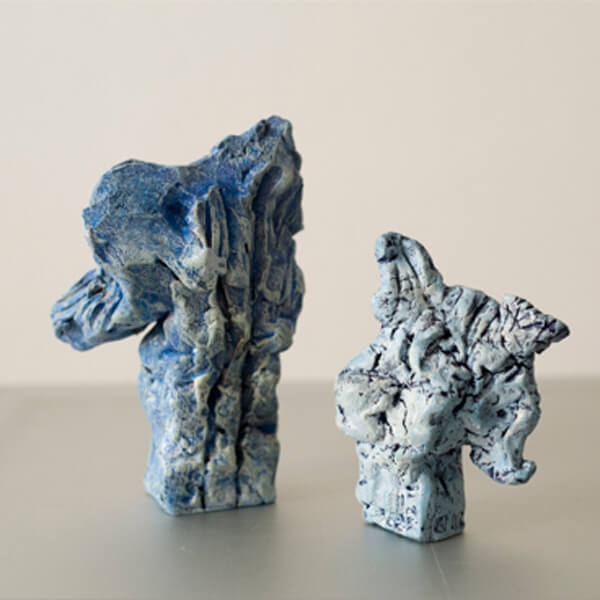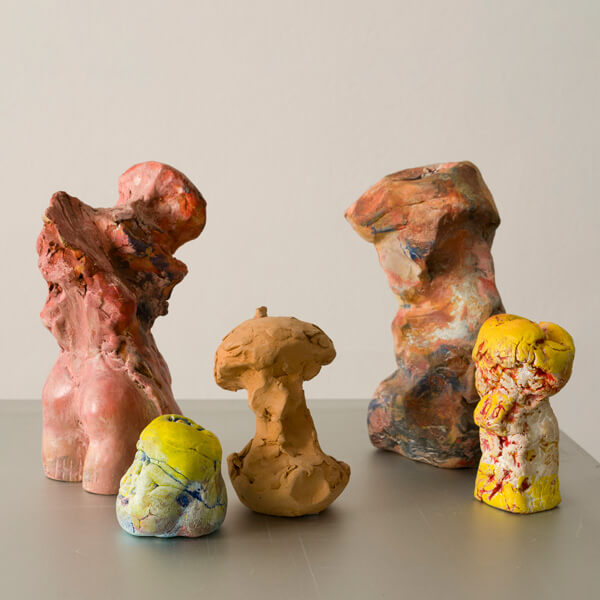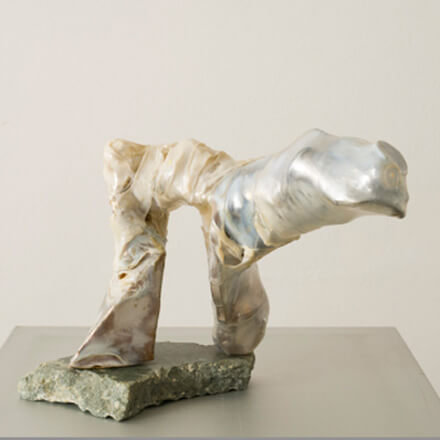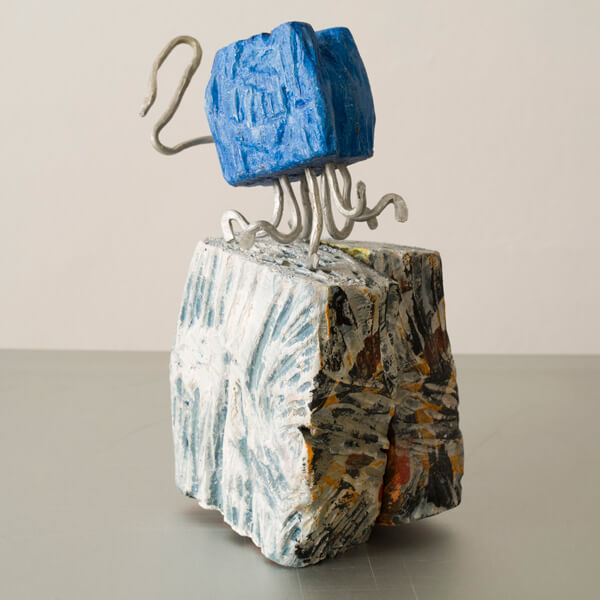 The Mutations Cycle
He refers to this cycle of his life, which he has been developing since the 1970s, as "mutations". Constant changes in nature and the social environment, and the observation of interpersonal relationships, pose an intellectual challenge to the artist that compels him to frequently explore and communicate his immediate and wider environment through the language of fine arts (i.e., non-mimetic portraits). Popovič refers to them as mutations of form and space.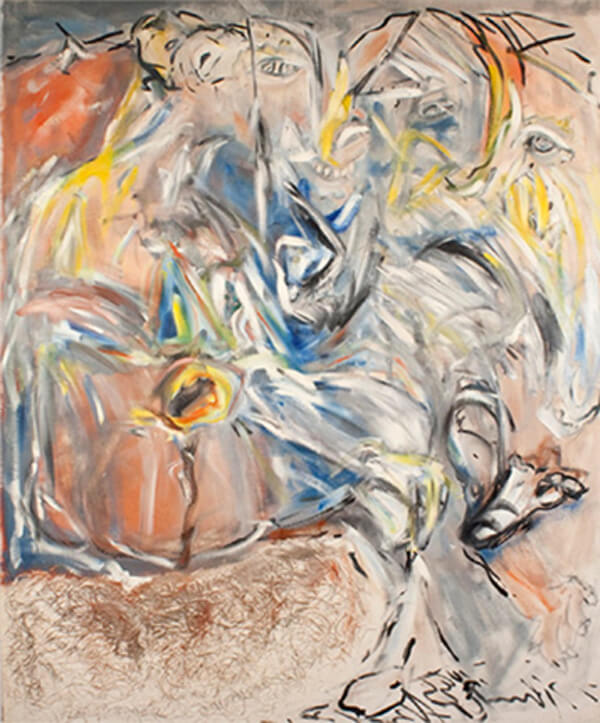 PLATO BLUSHES, AMPHION WAITS E = m. Inside is outside.
F=0
M=0

Space, time, volume, structure, texture, matter, and mechanics are the preconditions of the language of sculpture. The gravitational constant (i.e., artistic creativity) is a studious, creative, and technologically explorative act. It is an individual means of expression. It is a gesturally and spiritually irreproducible privilege of the humanoid species. Play is the spiritus agens or driving force in a being's maturation. It is the path to conversation, language, and visual creativity. Eros, spiritus movens, and grey are infinite values and the haptic and tactile perception provides the impulse for the visual message. The geometry of nature is indispensable information in the design of a work of art. Light, air, water, dust, X bosons, and fermions. Everything is architecture, graphic art, and impression. A trace. An object of adding, taking away, and spiritual survival.
- Silvije Arc Popovič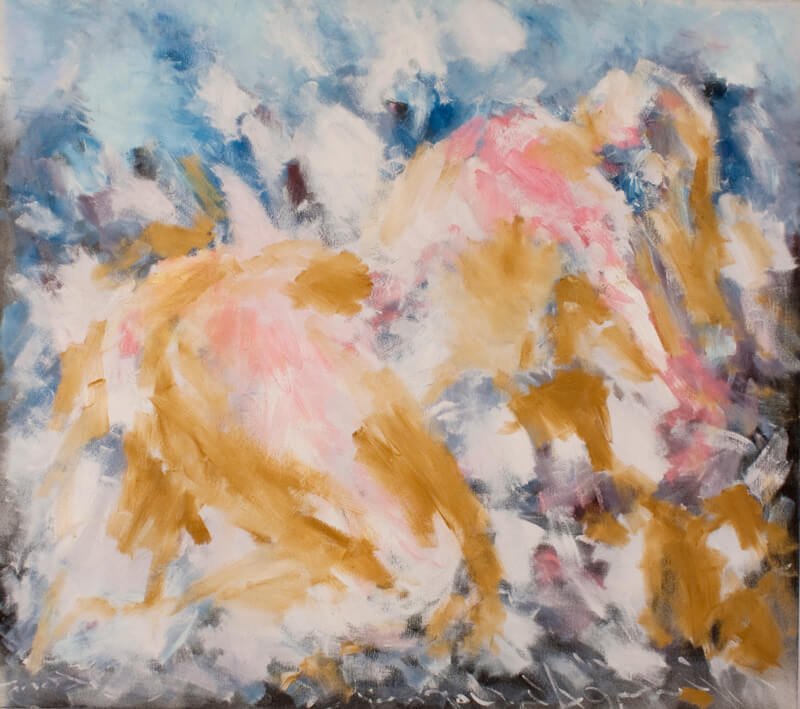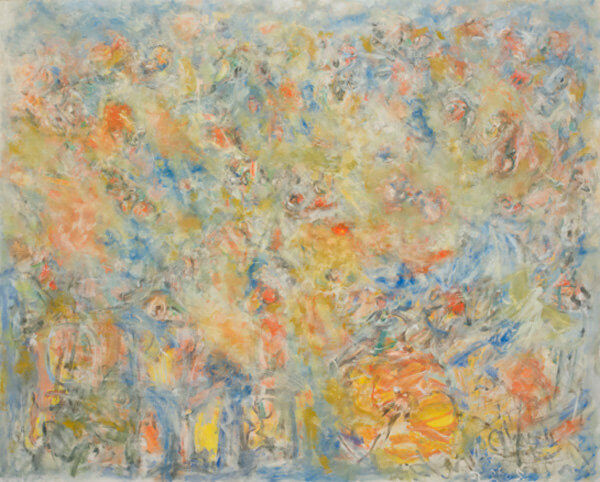 Silvije Arc Popovič is an academy-trained sculptor, painter, and graphic artist born on 6 November 1950 in Maribor. He obtained a bachelor's degree in sculpture and graphic art from the Ljubljana Academy of Fine Arts and Design under professors Drago Tršar and Bogdan Borčič, and received further training in Paris. Many of his works can be found in permanent and private collections in Slovenia and abroad. The artist lives and works in Ljubljana. He is known for his frequent public appearances in both Slovenia and elsewhere since the 1970s, when he started his career as an artist. Every year he takes part in the May Salon exhibition held by the Slovenian Association of Fine Arts Societies, and many solo and group exhibitions at galleries in Slovenia and abroad, including the Cité internationale des arts in Paris, the Galerie Moser in Graz, and the Galerie Cult in Vienna Dunaju. In the 1980s he also exhibited his works in Spain and one of his latest travelling group exhibitions was Show Your Hope held as part of the Maribor: the 2012 European Capital of Culture. He started cooperating with Atelje Galerija soon after it was founded. The gallery has thus held several exhibitions of his works (in 2003, 2010, and 2012) and in March 2015 it is showcasing a combination of his latest paintings and some of the most attractive sculptural paintings from his Mutations Cycle.
*Archimedes (287–212 BC, Syracuse, Sicily). Ancient Greek mathematician, physicist, mechanist, inventor, engineer, and astronomer, who dedicated his life to research, especially in mathematics. He also excelled as an inventor and builder, whose inventions were far ahead of his time. He played an important role in the defence of his native Syracuse, which the Romans held under siege for two years during a ten-year conflict. Archimedes was killed during the Second Punic War, just before the fall of Syracuse, by a Roman soldier, while contemplating a geometrical problem with circles drawn in the sand. "Noli tangere circulos meos" (Do not disturb my circles) were believed to be his last words. The Roman consul stated that the unfortunate event happened contrary to his orders and arranged for Archimedes to be buried with honours (encyclopaedic sources).