Creative Modern Painting Course
The painting course is designed in the form of intensive lessons at two separate levels (basic and advanced), and it will be carried out under the expert guidance of the academy-trained painter Silvester Plotajs Sicoe.
---
Creative Modern Painting Course
PROGRAMME DESCRIPTION:
You will start out by learning the basics of art theory, which you will later apply in practical work. The instructor will introduce you to the techniques of tone painting, and you will also gain experience in painting on canvas or paper. You will get to know painting in different formats with acrylics and expand this into a complex painting with still life, portrait, and figure themes. You will become familiar with colour mixing, colour contrasts, and harmonic values.
A tour of the Ljubljana Museum of Modern Art and its permanent collection. We will explain the painting styles based on examples of pictures in the gallery.
The course will take place at the premises of Atelje Galerija (Gallusovo Nabrežje 29, Ljubljana). Course participants will receive a certificate of completing the course. Atelje Galerija reserves the right to change the dates and programmes of the courses or to cancel them.
All participants should bring the following:
Acrylic paint (basic colors - red, yellow, green, blue,.. white, black, ocher,..)

Different paint brushes from fine to broad

Printed fabric (old cloths, colour pattens,..)

Coloured paper

Scissors

Ready made blank canvas max. 100 x 70 cm or. less
For more information, write to us at galerija@ateljegalerija.si or call +386 (0)1 421 34 50.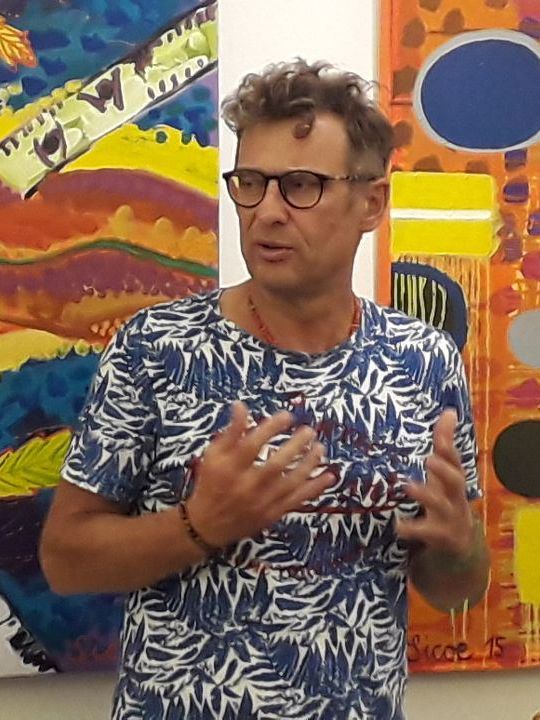 Brief presentation of the artist
In his works of art, Sylvester Plotajs Sicoe depicts the chaos of the urban world and the idols of mass culture, which he paints in pure and vivid colours in large formats. Strong, vivid colour compositions on a canvas surface are his most important tool of self-expression, which touches upon relationships and his own interpretation of the world and feelings. The messages he expresses through short quotes can be poetic, sometimes humorous, other times provocative, or it may seem as if he is using the visual language of primitive cultures. The intensity of the author's feelings is thus transferred to the viewer.
About the Author