Classical Printmaking Techniques Course
An intensive course in classical printmaking techniques will be conducted under the expert guidance of the graphic artist Leon Zakrajšek.
---
Classical Printmaking Techniques Course
PROGRAMME DESCRIPTION:
Printmaking is a special area of the fine arts. You will be introduced to the drypoint technique and concrete examples from history. This will be followed by steps of drawing on matrixes (zinc or plexiglass) using graphic needles and other accessories. While drawing on a matrix, you will learn how to shade and smooth to achieve special effects. After completing the image, you will learn about rubbing graphic colour into the matrix and cleaning it before final printing. The last step of the process consists of preparing Fabriano Rosaspina paper, correct application of the matrix, and final printing on a graphic press. At the end, you will learn how to properly sign and date the completed print.
The course will take place at the premises of Atelje Galerija (Gallusovo Nabrežje 29, Ljubljana). Course participants will receive a certificate of completing the course. Atelje Galerija reserves the right to change the dates and programmes of the courses, or to cancel them.
All participants should bring the following:
For more information, write to us at galerija@ateljegalerija.si or call +386 (0)1 421 34 50.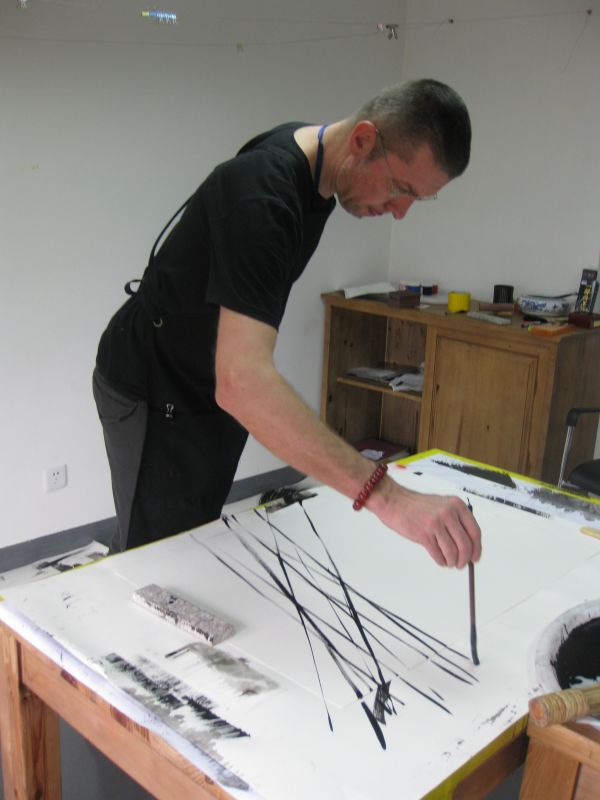 Brief presentation of the artist
The artistic expression of the graphic artist Leon Zakrajšek is characterized by seeking perfection in a single brushstroke using the sumi-e technique, the ensō circle monotype, and a variety of printmaking techniques He is known for his commitment to the ancient printmaking techniques of the Far East and Europe, ritual painting, the philosophy of Asian meditative principles, and Western artistic expressions. Leon Zakrajšek says: "Creating with the drypoint technique is a symbiosis of line drawing on a matrix, in our case on a zinc plate. With traditional approaches and a mechanical technique, the drawing is transformed into drypoint graphic language. The final result with drypoint is 'juicy' and 'rich', and it is significantly different from standard drawing on paper. Drypoint, like intaglio printing, leaves different traces with which we can achieve special effects and results, which is confirmed by this black art of the old masters."
About the Author